EDIT: Sorry, I write this blog only in Finnish, but you can dowload the English version of Nagu Trad pattern.
Olen saanut pitkästä aikaa kirjoitettua neuleohjeen!  Lapasten malli ei kuitenkaan ole omani, vaan jo useita vuosikymmeniä vanha.Viime syksynä ihailin vanhaa kirjolapasparia anoppini käsityökorin päällä. Anoppini kertoi, että lapaset on luultavammin neulonut hänen isänsä äiti Ida Söderholm. Muutama viikko sitten sain toisen lapasista (ja itseasiassa toisen kirjolapasmallin myös, mutta siitä lisää myöhemmin) itselleni ja päätin tehdä neuleohjeen samalla kun neuloin. Tämä malli on helppo oppia ja se on vähän addiktoivakin.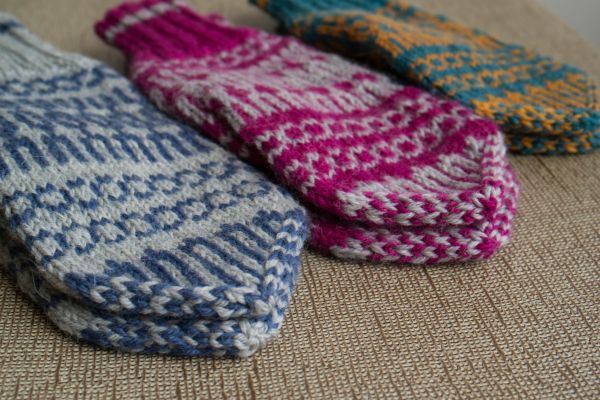 Annoin lapasmallille nimeksi Nagu Trad, koska anoppini suku on kotoisin Nauvon saarelta Länsi-Suomen saaristosta. Suurin osa Nauvon asukkaista, kuten anoppini sukukin, on ruotsinkielisiä. Siksi nimessä on saaren ruotsinkielinen muoto Nagu. Ohjeessa on annettu vain yksi koko, mutta langan paksuutta vaihtamalla voit neuloa erikokoisia lapasia.
Voit ladata pdf-ohjeen suomenkielisenä tai englanninkielisenä.
Nagu Trad -ohje on myös Ravelryssa.